1987 - 2002
WO1 (GSM) Alan G 'Perry' Mason MVO MBE, Coldstream Guards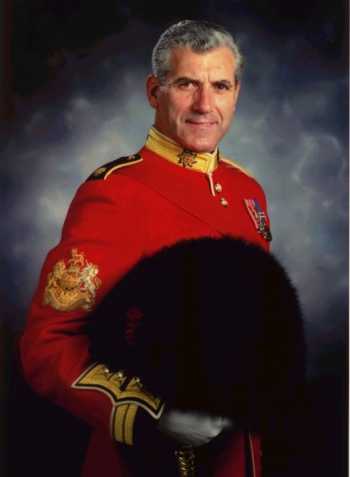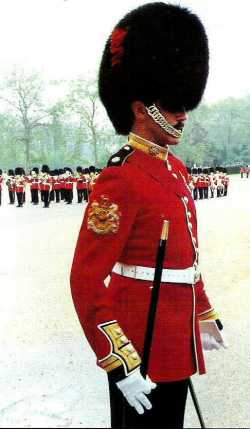 Alan Mason enlisted into the Coldstream Guards at Middlesborough Recruiting Office on 8th May 1962 at the age of 15 as a Junior Guardsman. He undertook his basic training at Pirbright and attained the rank of Junior Drum Major. On passing out in March 1965, he was posted to the 2nd. Battalion Coldstream Guards and departed for Aden, returning to the UK in late 1965. After an outstanding year he was promoted to Lance Corporal in February 1966 and then quickly promoted to Lance Sergeant in October of the same year. He was posted to the Guards Depot at Pirbright in 1968 as a Drill and Weapons Instructor and was promoted to Sergeant in 1969.
After an extremely successful tour he returned to the 2nd. Battalion in 1972 and was appointed as Company Quartermaster Sergeant 4 Coy. In 1973 he was posted to the Royal Military Academy, Sandhurst as a Colour Sergeant Instructor.
He was promoted to Warrant Officer Class II in 1976 and posted to the Guards Depot Pirbright as Company Sergeant Major Caterham Company.
In 1977 he was posted to 1st. Batallion Coldstream Guards as Company Sergeant Major No. 4 Support Company and left for a three year tour of Fallingbostal (Germany). He was appointed Drill Sergeant in 1979. On return, the Battalion was posted back to Caterham and in 1981 he was appointed as Regimental Quartermaster Sergeant.
In 1983 he was promoted to Warrant Officer Class One and appointed as Regimental Sergeant Major 1st. Battalion Coldstream Guards based at Caterham and later in Hong Kong.
In 1986 he returned to London to understudy GSM Alex Dumon and in June 1987 he was appointed as Garrison Sergeant Major, HQ London District, a post he held for 15 years.
GSM Mason was awarded the MBE in The Queen's Birthday Honours List in 1991 and awarded the MVO in Queen Elizabeth The Queen Mother's 100th Birthday Honours List in August 2000. He was given The Freedom of The City London in October 1990 and selected as The True Englishman of the Year by the St Georges Day Club in April 2003.
In his final three years he took charge of the Queen's Golden Jubilee, the Queen Mother's 100th Birthday and, sadly, her Lying in State and funeral.
During his service, he served in many countries throughout the world including Germany, Malta, Cyprus, South Yemen, Zimbabwe, Hong Kong, Canada, The Falkland Islands and Northern Ireland.
His appearance, his style and integrity are legendary. A true Coldstreamer who served 40 years with his Regiment.
He retired as GSM in July 2002 handing over the responsibility to 'Billy' Mott. He marked his retirement with a lone march past Her Majesty The Queen and Prince Philip at Buckingham Palace as part of the Golden Jubilee celebrations.
Perry Mason died on 31st October 2017 aged 70.
---

Colour Sergeant Instructor 'Perry' Mason at Sandhurst in 1975
(includes a short interview with Academy Sergeant Major Ray P. Huggins, Grenadier Guards)

GSM 'Perry' Mason - Rehearsal for Trooping the Colour

GSM 'Perry' Mason - Rehearsal for the installation ceremony
of a new Constable of the Tower of London

GSM 'Perry' Mason's Retirement Dining-out

GSM 'Perry' Mason's Final Parade
Many thanks to 'Perry' Mason for providing the last two video clips above
GSM 'Perry' Mason's full story from The Internet Archive


Return to home page