2002 - 2015
WO1 (GSM) W D G 'Billy' Mott OBE MVO, Welsh Guards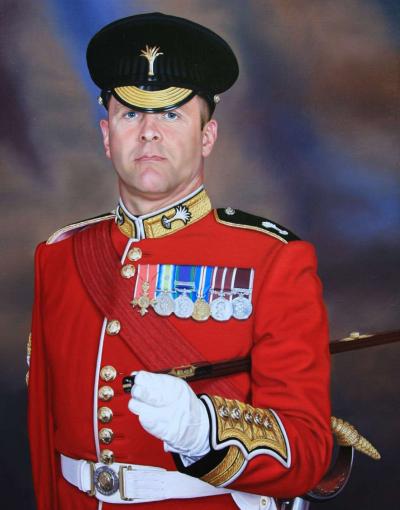 From a portrait by Vivienne Francis.
Oils on canvas, 81 cms by 61 cms 2007
'Billy' Mott enlisted into the 1st. Battalion Welsh Guards in April 1979 and has served with the Battalion in Belize, Canada, Cyprus, France, Germany, Kenya and the USA. He completed operational tours of Northern Ireland and served in the Falklands during the 1982 conflict.
He has held the post of instructor at both the Guards Depot, as a Lance Sergeant, and also at the Royal Military Academy Sandhurst as Colour Sergeant, Company Sergeant Major and as College Regimental Sergeant Major.
He held the appointment of Garrison Sergeant Major, Headquarters Northern Ireland prior to assuming his present appointment in 2002 and his first Queen's Birthday Parade (Trooping the Colour) as Garrison Sergeant Major was in 2003. He has visited, advised and trained regular forces in Sri Lanka, Jamaica, Malaysia and Jordan on State Ceremonial procedures.
He was involved in the ceremonial arrangements for Queen Elizabeth, The Queen Mother's funeral and the Golden Jubilee State Procession, whilst conducting his handover/takeover with his predecessor Garrison Sergeant Major 'Perry' Mason.
He was a pivotal figure in the orchestration of all repatriation ceremonies for those killed in action from 2003 during operations in Iraq and subsequently Afghanistan.
He was awarded Officer of the Order of the British Empire (OBE) in the Queen's Birthday Honours List 2007.
For the Royal Wedding of Prince William to Miss Catherine Middleton in April 2011, he was presented with a new insignia of rank reviving the original one made for Sergeant Majors appointed to the Court of King William IV in the early 19th century (see below). It incorporates the Royal Coat of Arms worn by selected Warrant Officers Class 1 of The Household Division, placed over a four bar chevron sewn in gold thread, the traditional badge of the Sergeant Major. This new badge was researched by the staff at The Guards Museum and commissioned by Major General Commanding the Household Division, Major General Sir William Cubitt KCVO CBE, before being approved by HM The Queen.
He was appointed as a Member of the Royal Victorian Order (MVO) by HM The Queen in 2012 for his contribution to organising the Queen's Diamond Jubilee.
He was granted The Freedom of The City of London in November 2013 for his significant service to The City.
As Garrison Sergeant Major, he was instrumental in planning the funeral of Baroness Thatcher and along with his brother, Lieutentant Colonel NPG Mott MBE, Welsh Guards, took a lead role within the Bearer Party. He was very proud of the fact that, along with his two brothers Nick and John, they all reached the rank of WO1 (RSM) serving in the Welsh Guards.
The Queen's Birthday Parade in June 2015 was his last parade as the Garrison Sergeant Major. It was with great sadness that we bade him farewell after serving 37 years in the Welsh Guards.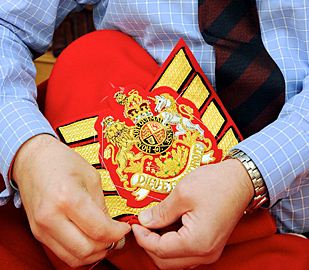 Click on the picture above for a video clip

The Garrison Sergeant Major at work in his office at Horse Guards

GSM 'Billy' Mott - Rehearsal for The Garter Ceremony at Windsor Castle

GSM 'Billy' Mott - State Opening of Parliament

GSM 'Billy' Mott - H.M. The Queen's Diamond Jubilee - Interviewed by Natasha Kaplinsky

GSM 'Billy' Mott - Can he shout?!!
(The full version is here)

GSM 'Billy' Mott - State Visit Windsor, April 2014

GSM 'Billy' Mott - Speaking at the Supreme Court Indianapolis - October 2014

GSM 'Billy' Mott's final salute


Return to home page