1977 - 1987
WO1 (GSM) Alexander Dumon MVO MBE, Coldstream Guards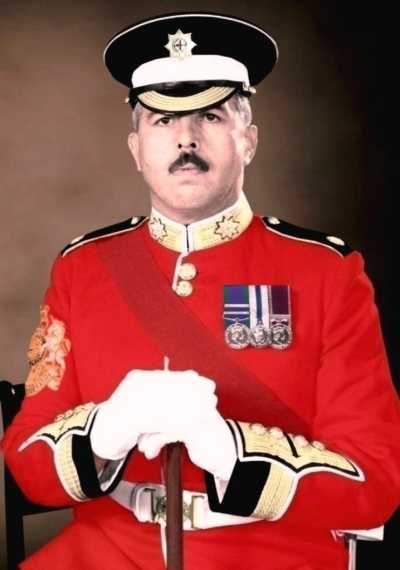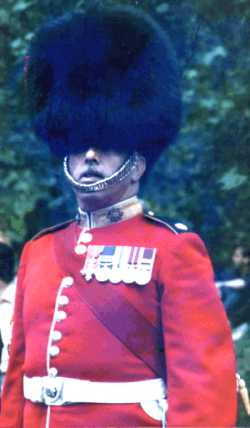 RSM Alec Dumon was appointed GSM London District in 1977 having completed the usual six months experience with Tom Taylor. He was known to all as 'Black Alec' when well out of earshot!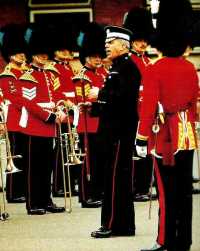 Alec Dumon was born in Leeds and joined the Coldstream Guards in March 1951. He was promoted to sergeant in 1958. In 1959 he participated in the Birthday Parade as a Sergeant of the Escort after which he was appointed as an Instructor at The Guards Depot. With a break of two years in recruiting, he returned to the Guards Depot as a CSM and later Drill Sergeant. He was promoted to RSM of the Guards Depot in 1972.
In 1975 Alec Dumon completed his period at the Guards Depot and was installed as GSM in Hong Kong where he remained for two years. In 1977 he took up the prestigious appointment of GSM of London District.
His term of office introduced the SA80 rifle into use and he was involved in development of the ceremonial rifle drill for this new equipment.
He was appointed MBE in the New Year Honours of 1984.
In 1987 Alec Dumon was appointed a Member of the Royal Victorian Order (MVO) by the Queen prior to his final Birthday Parade during which RSM A.G. Mason, Coldstream Guards was undergoing his six months preparation in readiness for taking over the appointment.
On retirement from the Army, he was appointed to The Queen's Bodyguard of the Yeoman of the Guard becoming Messenger Sergeant Major with an apartment at St. James's Palace, an appointment which he held until 2002.
Alexander Dumon died on 9th January 2011 aged 78.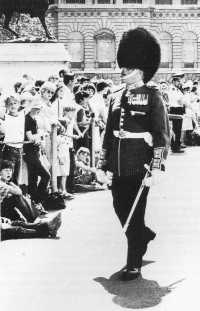 Extract from a 1979 documentary featuring GSM Alec Dumon

Extract from Trooping the Colour 1984 featuring GSM Alec Dumon tutoring the Massed Bands

Extract from Trooping the Colour 1987 featuring GSM Alec Dumon preparing for his last Trooping
Many thanks to the late Mr. Vic Lowe for providing the above video clips


Return to home page