1965 - 1977
WO1 (GSM) Tom Taylor MVO MBE, Grenadier Guards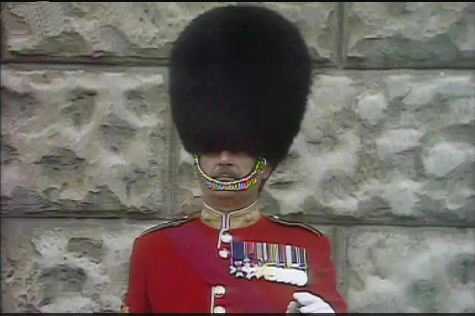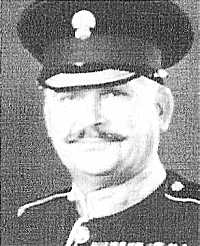 Tom Taylor was one of the most outstanding Guardsmen of his generation. He joined the Grenadier Guards in 1942 and showed immediate promise as a soldier.
Tom Taylor first became involved in ceremonial work in 1950 when on the King's Birthday Parade, he was Left Guide of Number 7 Guard - a key role in the guard who is responsible for the dressing of the halt and for guiding the guard through the forming points. Then in 1951 he was chosen to to be the Left Guide of the Escort to the Colour. He went on to become a Drill Sergeant and CQMS in the 2nd Battalion in 1955 and RSM of RMA Sandhurst for six years before being chosen as GSM, London District in 1965.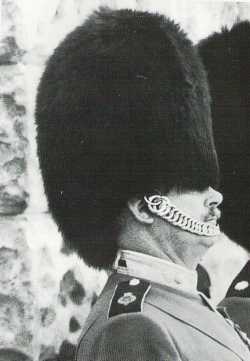 He learned the role of GSM from George Stone as they prepared for the 1964 Birthday Parade working together on the massed bands drills. He actually took a 'staff' and, by joining the Drum Majors on parade, learned the drill by doing it. He did not read music but learned the staff positions. He also learned from GSM Stone the many periods of massed band drill and the intricacies of the Spin Wheel.
GSM Taylor's first State Funeral was that of the Duke of Windsor whose lying in state was at St. Goerge's Chapel, Windsor. He trained a team of Sergeants to carry out the sword drill and the slow march onto the catafalque as a demonstration for the 40 officers. They practised for hours until each officer had mastered the change of watch.
He suggested many changes in the format of the Birthday Parade.
During his service he was deservedly awarded the MVO and MBE. He also held the Meritorious Service Medal.
One of the last parades of his tenure was for the Queen's Silver Jubilee celebrations. GSM Taylor was assisted by RSM Alex Dumon who was due to take up the position of GSM on Taylor's retirement. They decided that the three services Guard of Honour outside Buckingham Palace had to have their positions absolutely correctly marked on the pavement, so RSM Dumon took charge of this whilst GSM Taylor went to St. Pauls.
On retiremant from the army at the age of 54 in 1977, he gained the post of Doorkeeper to the Gentleman Usher of the Black Rod at the House of Lords. He also became Messenger Sergeant Major of the Queen's Bodyguard of the Yeoman of the Guard for 15 years and carried out his responsibilities at St. James's Palace.
Tom Taylor died in 2008.


Return to home page