2015 - present
WO1 (GSM) Andrew 'Vern' Stokes, Coldstream Guards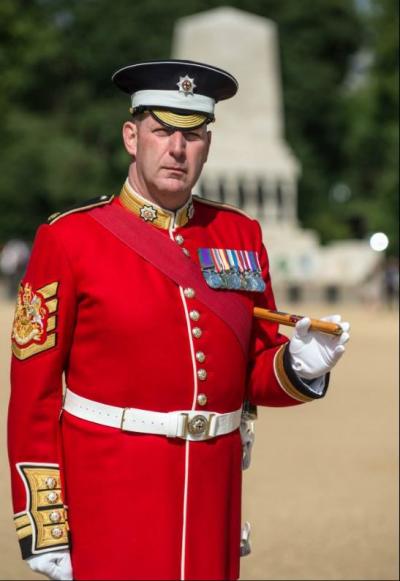 'Vern' Stokes joined the British Army in June 1988 aged just 16yrs old and after basic infantry training at the Guards Depot in Pirbright, Surrey he joined the 2nd Battalion Coldstream Guards in Episkopi Garrison, Cyprus. When the Battalion returned to the United Kingdom in 1990 and were posted to Chelsea Barracks, London he got his first taste of State Ceremonial and Public Duties (SCPD) at the Royal Palaces.
After a tour of Northern Ireland, and overseas exercises in Belize and Kenya, in 1993 the 2nd Battalion amalgamated with the 1st Battalion Coldstream Guards under 'Options for Change' and deployed to Gornji Vakuf, Bosnia for a six month operational tour with the United Nations. He was a Section Commander Instructor at the Infantry Battle School, completed further operational tours of Northern Ireland, Al Amarah and Basrah in Iraq, Afghanistan, and overseas exercises in Canada. He trained future Officers at the Royal Military Academy Sandhurst as a Colour Sergeant Instructor and then as Company Sergeant Major. In 2010 he promoted to be the Regimental Sergeant Major of the 1st Battalion Coldstream Guards, the pinnacle of regimental service as a soldier.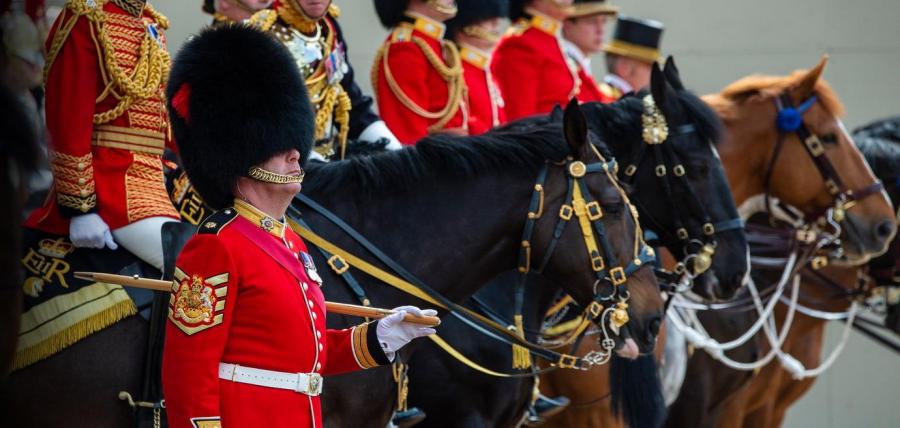 In December 2011 he was commissioned to Captain, which he has deferred, and was appointed as the Academy Sergeant Major of Sandhurst. At that time the appointment was the senior soldier in the British Army. In addition to duties associated with the post at Sandhurst his role included advising both the Chief of Defence Staff and the Chief of General Staff on issues relating to Non Commissioned Officers and Soldiers and briefing other NATO countries in the development of Leadership, in particular within their Non Commissioned Officer Corps. He was awarded the Meritorious Service Medal in 2013.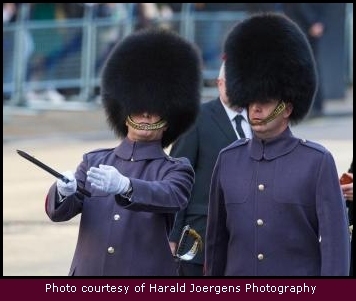 He joined the team in Horse Guards in 2014 to begin a year of shadowing the previous Garrison Sergeant Major, 'Billy' Mott, on the annual cycle of State Ceremonial events as part of their handover and takeover programme. During this period he also worked within the Civil Engagement cell at HQ London District, his focus in particular being Youth Engagement (16 – 24 years old). He set up initiatives linking the Army in London with other youth engagement organisations, charities, colleges and associations. In particular he established links with the Department for Work and Pensions - Job Centre Plus and continues to promote the merits of service in the Regular and Reserve forces.
Garrison Sergeant Major Stokes has two grown up and fledged children. His hobbies include living the core values, exploring the lesser known parts of London with his partner Sue on their very traditional bicycles, walking their Siberian Husky and motorcycling when the time permits and the sun shines.
GSM Stokes' first Queen's Birthday Parade, Trooping the Colour, was for Her Majesty's 90th Birthday in June 2016.

The Man Behind Britain's Ceremonial Spectaculars
GSM Stokes takes the post of 'H. M. Ceremonial Warrant Officer' forward with the certainty that he has, like those before him, faced the challenge and change.


Return to home page