The Inspection of the Line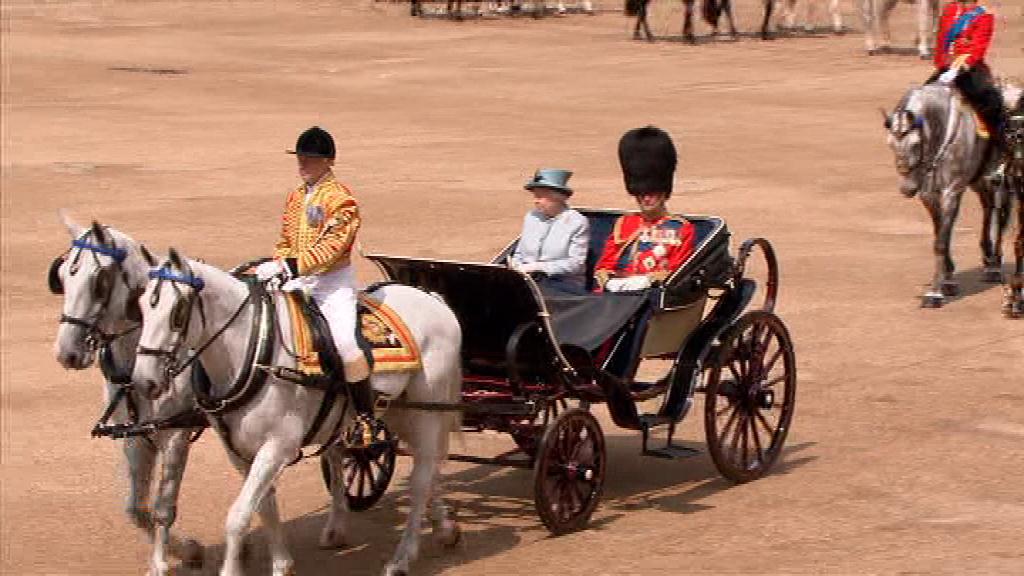 His Majestry The King rides down The Mall.
The King's ceremonial horses are kept at the Royal Mews, where there are currently about 30 horses. The carriage horses draw The King's carriages and coaches in State processions and on ceremonial occasions throughout the year. Many of the carriage horses, in addition to their ceremonial duties, have represented Great Britain in national and international carriage driving competitions (in which The Duke of Edinburgh competed from 1973).
Queen Elizabeth II last rode a horse on a ceremonial occasion at Trooping the Colour in 1986; the horse was a black mare named Burmese, given to The Queen by the Royal Canadian Mounted Police, which The Queen rode for Trooping the Colour from 1969 until the mare's retirement in 1986.
The Sovereign's Escort, consisting of the mounted troops of the Household Cavalry Mounted Regiment and the Mounted Bands, accompany His Majesty.
The crowd stand in respect as the King crosses the parade ground.
The Royal Colonels, who are mounted following the King, salute the colour as they pass. The King arrives at the entrance to the Horse Guards Building at exactly 11 o'clock. The Guards present arms whilst the Massed Bands play the National Anthem.
.
There now follows the 'Inspection of the Line' whilst the Massed Bands of the Household Division play patriotic airs from around Britain. The King, led by the Brigade Major and followed by the mounted Royal Colonels: HRH The Princess Royal, Gold Stick in Waiting and Colonel of the Blues and Royals, and HRH Prince William of Wales, Colonel of the Welsh Guards.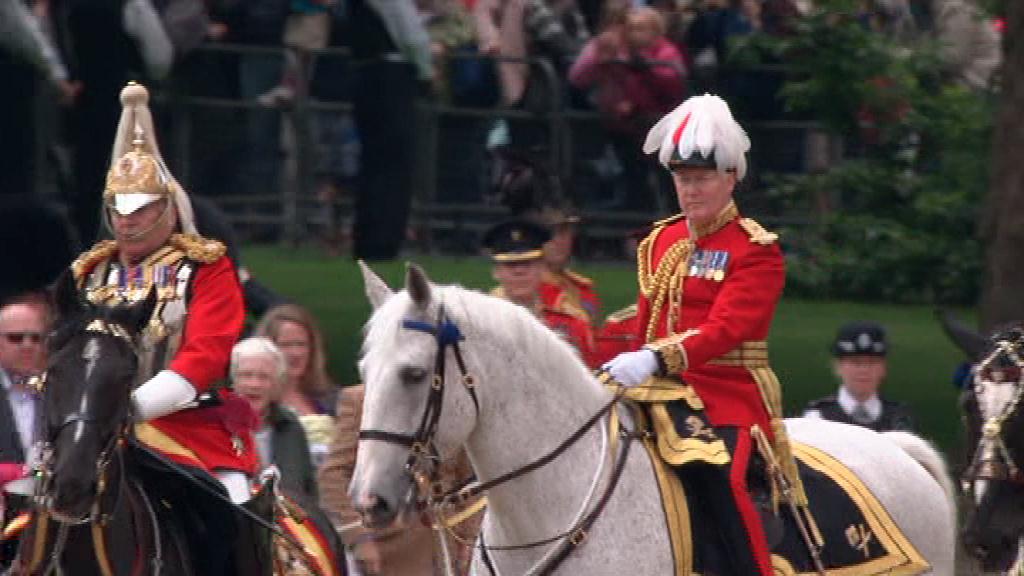 In procession with His Majesty are also the Master of the Horse, The Crown Equerry, The Equerries in Waiting and The General Officer Commanding London District. The procession turns before No. 6 Guard to the left of the line. The King and the Royal Colonels acknowledge the Colour in salute.
Now, The Royal Colonels pass behind No. 6 Guard as His Majesty makes his way towards the massed mounted bands, the Sovereigns Escort of the Household Cavalry and the Kings Troop, Royal Horse Artillery.
The king arrives back at the dais and takes his place for the rest of the ceremony.


Return to home page