Concerts and Shows
---
Forthcoming Concerts
---
Guards Chapel Recital Series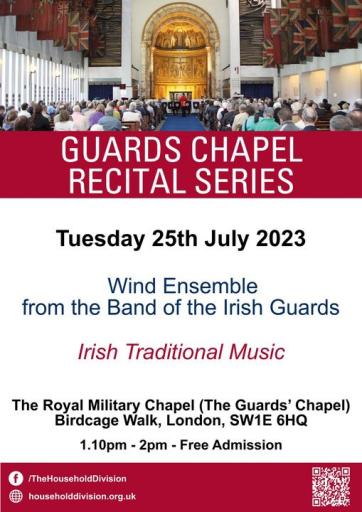 These will now continue monthly on 2nd and 4th Tuesdays of the month at 1.10pm
in The Royal Military Chapel (The Guards' Chapel), Birdcage Walk, SW1E 6HQ
The next recitals will be as follows at 1.10pm.
Tuesday 10 May:
Beautiful choral classics
Members of the Guards Chapel Choir
Fauré, Massenet, Schubert & Brahms
Tuesday 24 May:
Rhapsody In Blue - and all that Jazz!
Clarinet - LSgt Alan Shellard, Piano - Mr Alan Gout
Gershwin, Jobim, Berlin, Barroso, Templeton
Future dates:
14 June, 28 June, 12 July, 26 July
Free admission, retiring collection.
---

(click flyer to enlarge)
---

With over 1000 years of combined service, the former musicians of The Household Division reunite, one more time, for a very special celebration concert.
Unallocated seating, free ticketed entry only:
https://www.eventbrite.co.uk/e/a-jubilee-celebration-tickets-321655138177
---

(click flyer to enlarge)
---
Forthcoming Shows
---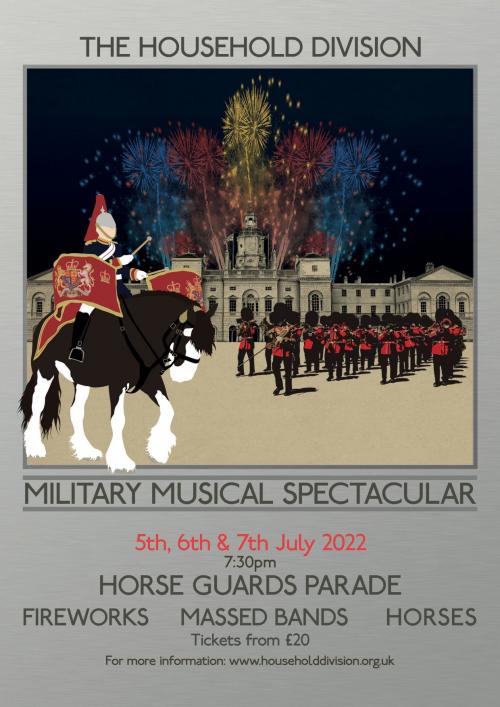 (click flyer for more information)
---


Home page